Nomadic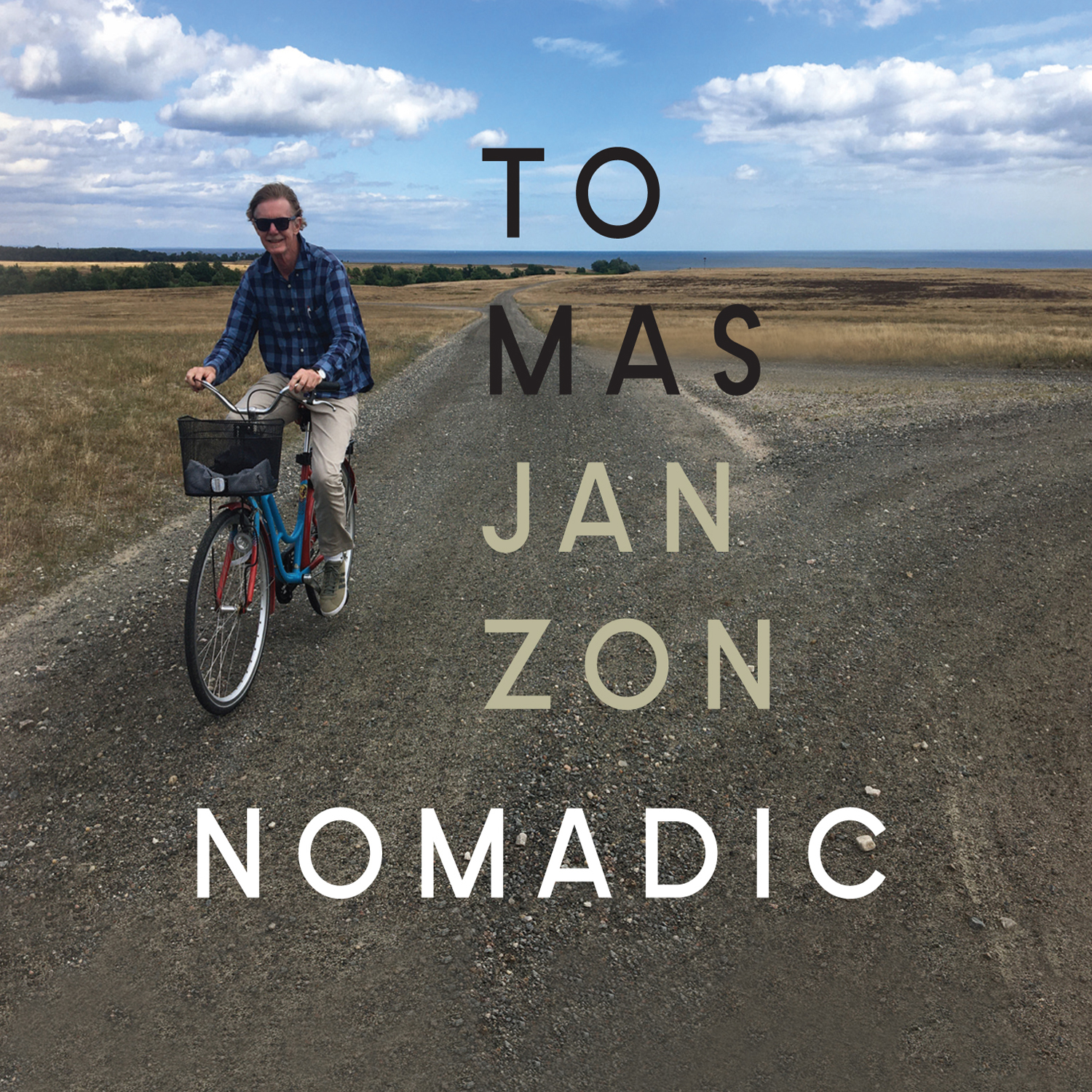 by Ken Dryden,
New York City Jazz Record, September 2023.
Guitarist Tomas Janzon has had a long career performing classical music and writing for television and film as well as playing jazz, though he hasn't recorded nearly enough to be as widely known as he merits. A student of guitar master Joe Diorio, Janzon has long forged a unique sound. He has developed a stripped-down approach to writing and arranging without keyboards or horns, while his reserved playing is more about making music than wowing listeners with blazing technique. As on his previous album 130th & Lenox, Janzon utilizes two separate bands on Nomadic: his regular New York quartet with Steve Nelson (vibes), Hilliard Greene (bass) and Chuck McPherson (drums) and a West Coast trio with Jeff Littleton (bass) and tony Austin (drums).

All but one of the quartet selections are originals. "Out Door Valley" features an intricate unison line by the leader and Nelson and an engaging rhythmic pattern. "Night Watch" builds tension with its foreboding theme, then provides release with Nelson's darting vibes and Janzon's introspective solo. the leader switches to acoustic guitar for the moving "Letter from JSB", a duet with Nelson. Its low-key, lyrical tone simulates an intimate conversation. Janzon's pairing of Lee Konitz' "Subconscious-Lee" and Tadd Dameron's "Hot House"—two bop classics based on the changes to Cole porter's "What Is this thing Called Love"—simmers without boiling over in a surprisingly brief performance.
The selections featuring the California trio are just as potent. Janzon's setting of McCoy Tyner's "Search for peace" strips it down to bare bones while bringing out its lyricism. His playful take on Sonny rollins' "Valse Hot" negotiates the tricky theme with finesse, giving plenty of space for Littleton to show off his formidable bass chops. Janzon's twisting "blue Frog return" focuses on adept trio interplay, while Janzon opens up a bit more in his "Pressing Forward", sharing the spotlight with Littleton.

Tomas Janzon continues to surprise as an impressive guitarist, writer and composer, clearly evident on Nomadic.

(For more info visit tomasjanzon.com. Janzon's Nomadic is at Zinc Bar Sep. 18. See Calendar.)
Stephen Smoliar, Saturday, December 3, 2022
Tomas Janzon Leaves Harlem to Go "Nomadic"
I first became aware of Swedish guitarist Tomas Janzon when he released his 130th & Lenox album, named after where he was living in the Harlem neighborhood of Manhattan. That context of "having a base" has been uprooted with the release this past October of his latest album, entitled Nomadic. It would be reasonable to assume that the eleven tracks on this recording reflect his life under pandemic conditions and his response to the recent lifting of constraints. Thus, the advance material I received for this new album included what amounts to current impressions as a reflection on those past constraints:
Not being held down by time and place.
Going for movement not being landlocked, things keep evolving allowing for different perspectives.
Focusing on the ideas and the music itself.
Different players and their unique styles.
Expansive, reflecting on where we are.
This is a snapshot of what's been going on.
That reference to "different players and their unique styles" bears some consideration. On 130th & Lenox only three of the tracks were Janzon originals with an impressive diversity among the remaining "standards" tracks. Nomadic, on the other hand, has eleven tracks, eight of which are composed by Janzon. These rub shoulders with Sonny Rollins ("Valse Hot"), "Search for Peace" (McCoy Tyner), and a "medley track" of "SubconsciousLee" (Lee Konitz) and "Hot House" (Tadd Dameron).
Six of the tracks offer some thoroughly engaging interplay between Janzon and Steve Nelson on vibraphone. Those tracks were recorded this past March 2 in Brooklyn with rhythm supplied by Hilliard Greene on bass and Chuck McPherson on drums. The remaining tracks were recorded in Pasadena in June of 2021 and April of 2022. That cross-country span should suggest that Janzon's "nomadic" disposition involved travel between the Atlantic and Pacific coasts!
Where my own personal tastes are concerned, I would have to confess that my eclectic background drew me to Janzon's "Letter from JSB" track. My guess is that most listeners will recognize that the initials refer to Johann Sebastian Bach. To be more specific, Janzon took the Sarabande movement from the BWV 1011 solo cello suite in C minor and used it to develop a dialog with Nelson's vibraphone work. This involved more than a little deconstruction of Bach's extended phrases into more compact motifs, which then seed the improvisation that unfolds.
Given how much attention is given to guitar performances here in San Francisco, I can only hope that a bit of that attention will go to providing Janzon with an opportunity to visit our city.
https://therehearsalstudio.blogspot.com/2022/12/tomas-janzon-leaves-harlem-to-go-nomadic.html
Interview
For Jazz Guitar Today, May 9 2023.
You grew up Stockholm, Sweden starting young on the recorder and then cello, but what drew you in to play jazz guitar and what was most helpful in your personal development as a guitarist?
Thanks. My very first steps with jazz guitar was a combination of finding Django Reinhart, transcribing his Minor Swing and then
Nuages, and at the same time running into Bird-Charlie Parker, and his Cool Blues.
Also I was early on improvising in my head. Walking home from school with a Bach prelude ringing after the cello lesson and
hearing all kinds of variations. It was fun and maybe a bit weird. I didn't think about it as improvisation, but I guess that's where
it starts, in your head.

You moved to Los Angeles to study with Joe Diorio. Tell us how working with Joe was most helpful to you?
That's a great question. I wrote an article about it for Just Jazz Guitar magazine "Considering Tap Dancing". It's been an amazing experience and when Joe moved back to Waterbury CN, I was soon in New York. I kept getting together with him now and then driving up from Harlem. He was like an infinite inspiration. Always writing new ideas and playing and thinking about the music. I have so much material from him. But what I have with me today more than anything is the Way. The way he would always find new approaches, harmonizations, lines, always coming from inspiration. This creative approach: knowing that the music doesn't end, there is always more. As he said "One lifetime isn't enough".

Then you went on to complete a Masters degree in classical guitar from USC. How has studying classical guitar helped you as a jazz guitarist?
It was a fantastic experience. Jim Smith (and Scott Tennant) was great in finding related material. Of course
I played Bach which was already close to me, but I also played Ralph Towner's The Juggler's Etude which
is kind of built like a long improvisation, using classical techniques with modern jazz harmony. I also a found others, like
Jorge Morel, and I am actually relearning his Romance Criollo for some gigs this summer. When I started deciphering
the harmony in classical peaces I found a lot of ideas that I use on my jazz recordings. A dominant chord is always a 7-chord whatever style. It can be helpful if you want to expand from playing either chords or lines and instead mix it up, use more options.
I'm also transferring things to playing with a pick for jazz most of the time.

What are three of the most influential jazz guitar albums and why? (please give details in how they influenced you)
Smoking at The Half Note (W Montgomery), I transcribed his playing on What's New for Downbeat Magazine a few years ago.
Also Wes' Mr Walker where my friend Tootie Heath is playing drums.
There is an album with Philip Catherine, Kenny Drew and Niels-Henning Örsted Pedersen called In Concert. I remember listening
to this, specially Here's That Rainy Day.
John Scofield Out Like a Light, and I did transcribe his Last Week (based on Yesterdays).

Practice and listening aside, can you pinpoint one or two 'things' that really boosted your profile and career towards where it's at today?
I asked Joe (Diorio) so what about this guru, you mentioned? And he said you just go up Cahuenga Boulevard (in Hollywood)
and make a right turn. And I did that, and found a little Indian temple with a swami who told me to read the Upanishads, really
slow. And I did. So now I do meditate every day - and I do think it helps.

You have a number of wonderful CDs out. Tell us about your goals in making your new CD Nomadic.
The goal is to focus on purpose. And to produce an album makes me collect myself and move forward. And the purpose is
to reach out. And by that hopefully be able to bring some goodness to this place.
Tell us about the guitar and amp that you use?
I have been playing my Gibson L7 (1959) almost all the time for a while. It is a lovely instrument, it does take some work to play
but it's rewarding. I only use big single coil pick ups, like P90's. Another lovely friend is my Epiphone Casino (1963), but it
is in Los Angeles right now waiting for a new P90 by Lin Fralin.
I use almost exclusively tube amps: Fender DeVille 212, DeVille 112, also a Music Man 210 -nice with smaller speakers.

As a gigging musician, how does the scene in Europe compare with that in the United States? What advice would you give young American musicians who want to break into Europe?
It is hard to compare. The different countries in Europe all have their own traditions in terms of supporting jazz. Maybe
one can say that there are a few more subsidized possibilities in Europe but it's all very competitive. And now they are booking more European acts, when before there was more focus on jazz from US. If there is any advice maybe it is good to focus on one country, where you have some kind of connection. Then just start googling, calling and emailing. It's a work out. But it's possible.
In your opinion, what's a great American or European jazz club that gives gigs to interesting, emerging bands?
I don't have an answer to that. Every club is getting lots of offers. One just have to keep calling and emailing.
Releasing music, getting reviews and all that. Also keep an eye on possible teaching and clinic situations on the way.
Scott Yanow, jazz journalist/historian
Tomas Janzon was born and raised in Stockholm where he originally studied and played cello until switching to guitar as a teenager. Before moving to the United States in the 1990s, he was busy in Sweden as a guitarist and a composer for television and films. Janzon spent 1995-2008 in the Los Angeles area where he studied with Joe Diorio and was a faculty member of the Musicians Institute. He has been based in New York since 2010.
An excellent post bop guitarist who had led five previous small group albums, Janzon is featured on Nomadic with two different sets of bassists and drummers. The five numbers with bassist Hillard Greene and drummer Chuck McPherson also has strong contributions from the great veteran vibraphonist Steve Nelson (who is in addition is heard on a duet with Janzon) while the other five numbers have the guitarist playing with bassist Jeff Littleton and drummer Tony Austin.
The music, which is mostly comprised of Janzon originals, is intimate, sometimes sparse, and often explorative. To name a few highpoints, "Out Door Valley" builds up momentum as it progresses, "Rob's Piano" has a shuffle from McPherson that is purposely influenced by Art Blakey, "Night Watch" is a thoughtful jazz waltz in 9/4 time, and the attractive "Blue Frog Return" is lightly swinging. The Janzon-Nelson duet performance of "Letter From JSB" is a tribute to Johann Sebastian Bach, the quartet with Nelson is swinging and inventive on a medley of Lee Konitz's "Subconscious-Lee" and Tadd Dameron's "Hot House," and there are also fine versions of McCoy Tyner's "Search For Peace" and Sonny Rollins' highly appealing "Valse Hot."
Nomadic is filled with bright moments, subtle creativity, and the joy that these players had at finally getting to make music together after the COVID era.
–Scott Yanow, Jazz Monthly July 2023.
JUNE 2023 JERSEY JAZZ NJJS.ORG
OTHER VIEWS
BY JOE LANG
Tomas Janzon is a Swedish-born jazz guitarist who currently makes his home base New York City. On Nomadic (Changes Music – 115) he is joined by vibraphonist Steve Nelson on six of the eleven tracks, while Hillard Green or Jeff Littleton is in the bass slot and Chuck McPherson or Tony Austin fills the drum seat. Four nifty original tunes by Janzon are found on either side of the three tracks of jazz standards, "Search for Peace" by McCoy Tyner, "Valse Hot" by Sonny Rollins, plus a medley of Lee Konitz's "Subconscious-Lee" and Tadd Dameron's "Hot House." On the tracks with Nelson present, there is a natural telepathy passing between the Nelson and Janzon. The trio tracks put Janzon's tasteful and consistently engaging guitar artistry out front while his partners are right there with him every note of the way. Nomadic is a musical journey that takes several paths, but ends up satisfyingly complete at its final destination, pleasing the listeners.
–Joe Lang
In Swedish:
Timo Kangas for Lira
Den Stockholmsfödde jazzgitarristen Tomas Janzon presenterar åtta originalkompositioner och tre jazzstandards på sitt nya album. Skivan har ett bra sound och spelades in i Brooklyn och i kaliforniska Pasadena i våras. Tomas Janzon har nämligen en bas i New York också – eller om det är några gitarrer?
Nomadic var ordet. På skivan får Janzon sällskap av Steve Nelson på vibrafon, Hill Greene på bas och Chuck McPherson på trummor på sina östkust-sessions. Herrarna känns igen från Janzons förra album 130th & Lenox, som hyllades stort av anrika jazzmagasinet Downbeat.
De kaliforniska klippen fimpar vibes och satsar på en ännu intimare sättning där Jeff Littletons bas och Tony Austins batteri smaksätter Janzons frestelser. Just västkustinspelningarna har alltså gjorts med andra musiker än på 130th & Lenox, en skiva som även den var uppdelad i studiobesök på de två kusterna.
Albumet Nomadic är stillsamt, inbjudande och finstämt. Tomas Janzon träder fram som något av en mästare på att hantera gitarren. Wes Montgomery och John Scofield dyker upp i tankarna. Janzon spelar melodiskt och melankoliskt, med vackra, nomadiska vandringar över gitarrhalsen. Jag trivs gott när jag flanerar där bredvid.

–Timo Kangas, Lira nov 2022.


130th & Lenox



Downbeat magazine March 2020, 4 stars ****
DOWNBEAT REVIEW. Click HERE
130th & Lenox
CHANGES 114
**** 4 stars
There's an authority to Tomas Janzon's playing, but it's generous, open, masterful and gracious. His collaboration with two distinct sets of musicians on both the East and West coasts model sterling ensemble play and a commitment to showcasing the tunes and their possibilities, rather than just the virtuosity of the collected players.

This is especially true of the tracks featuring the East Coast combo: stellar vibraphonist Steve Nelson, bassist Hilliard Greene and drummer Chuck McPherson. Nelson and Janzon often double, expanding the harmonic range of both their instruments, creating a sweet synthesis. On "Softly As In A Morning Sunrise" their solos and breaks are concise and conversational. For the Janzon original "Somewhere Over Stockholm," the bandleader leaves Nelson plenty of space on a bass-driven, minor-key march that serves as the bridge, before answering him with characteristically understated elegance in his own solo. Also from the East Coast sessions comes the slightly retitled, casually acerbic "Have You Met Ms. Jones."

The California sessions feature bassist Nedra Wheeler and drummer Donald Dean, and a take of Sam River's "Beatrice" highlights the group's fidelity to melody, as do its versions of Wayne Shorter's "Iris" and Thelonious Monk's "Monk's Mood."
Irrespective of the coast, 130th & Lenox is a recording that celebrates bonhomie and sharing, a welcome message for these times.

—Hobart Taylor
Downbeat, March 2020.
JazzTimes magazine, April 2020.
Tomas Janzon: 130th & Lenox (Changes)
Even when guitarist Tomas Janzon is in full flight, his music is welcoming—he sounds as if he wants to invite us in, rather than intimidate or overwhelm us with his virtuosity. "Softly, as in a Morning Sunrise," the opener here, sets the tone: After a moody, Spanish-tinged introduction, Janzon swings into a gentle take on the standard, as drummer Chuck McPherson and bassist Hilliard Greene skip merrily behind him and vibist Steve Nelson drops appropriately liquid-sounding spatters. Janzon's chording harks back to Wes Montgomery, but he's in command of a melodic, harmonic, and rhythmic armamentarium all his own.

Janzon's quick-fingered runs on "Invitation" dance with blithe gaiety, yet his conceptions are crisp and challenging; Nelson, by contrast, sounds almost studied in his focus, yet his playing too is shot through with ebullience. In "Somewhere Over Stockholm," ascending and descending patterns interweave and countermand one another, prodded gently but firmly by Greene and McPherson's playfully off-kilter rhythmic impetus. The ongoing forward thrust dissolves into a holding pattern at times, creating a tension that's then relieved by a dive into more of those horizontal crosscurrents.

The unorthodox chordal resolutions and juxtapositions of Wayne Shorter's "Iris" are deftly negotiated by Janzon. So fully realized is his reading, in fact, so resonant the depths and expansive the widths of his conception and execution, that a rhythm section seems almost superfluous; this one might have been even more compelling unaccompanied. Nonetheless, as throughout the set, the eloquence of Janzon's own playing and his interplay with his bandmates (here including Donald Dean on drums and Nedra Wheeler on bass) are both heightened and enriched by the other musicians' unforced panache. Sometimes, what goes down easiest is also most savory.

–David Whiteis, JazzTimes April 2020.
https://jazztimes.com/reviews/albums/tomas-janzon-130th-lenox-changes/
Feb. 5, 2020: From Carl Pearson at radio WFHD:
The Swedish-born, L.A.-educated, and now New York-residing guitarist Janzon is a finely honed gem of a player. His understated approach betrays the remarkable sophistication of his style. In fact, if you are not paying close attention, the subtle interplay of melody and harmony that is the hallmark of his approach might be lost on you. He employs two different ensembles on the record, a trio from L.A and a quartet from NY. The trio tracks are the more restrained and I preferred the quartet, especially since Steve Nelson's vibes are such a perfect fit for Janzon's quiet but complex style. The quartet is also grounded by two exceptional rhythm players, Hilliard Greene on bass and Chuck McPherson on drums who together provide a gentle but firm frame for the soloists. High-quality modern mainstream from a guitarist with sophistication and a refined sensibility.
-Carl Pearson WFHB, RadioFreeAmerica
Review from Chris Spector: 130th & Lenox.
(Oct.4, 2019)

TOMAS JANZON/130th & Lenox: The Swedish guitarist continues to show why he's such an amazing player as he's equally at home with interpreting jazz hell raisers as he is with soundtrack aces of the past. Then he puts the cherry on top with some nifty originals. Blazing his own trail without having to show how much he can sound like Wes, this original voice finds wonderful music in nooks and crannies where you wouldn't think it exists anymore and plays it to the fullest. A winner throughout.
(Changes Music 114)

-Chris Spector, Midwest Record
130th & Lenox
Tomas Janzon (Changes Music)
by Ken Dryden - New York City Jazz Record (Jan. 2020)

A native of Sweden, guitarist Tomas Janzon has a broad background in both classical music and jazz. While in California, he studied with master guitarist Joe Diorio and one can hear the influences of a number of artists in his playing, though he has long since found his own voice. The lack of filler in Janzon's arrangements allows the music to breathe.
130th & Lenox consists of two separate bands, a West Coast trio with bassist Nedra Wheeler and drummer Donald Dean (who mostly sticks to brushes) and a New York quartet of vibraphonist Steve Nelson, bassist Hilliard Greene and drummer Chuck McPherson. The lack of a pianist or horn player is hardly a handicap for these engaging performances.
With his quartet, Janzon begins with a driving rendition of Sigmund Romberg-Oscar Hammerstein II 's "Softly, As In A Morning Sunrise", alternating between spacious lines and intricate bop, Nelson's quote-filled solo nearly stealing the show. The leader's original "Somewhere Over Stockholm" is a tense affair with an understated solo. Kenny Dorham's rarely performed "Prince Albert", a snappy reworking of "All The Things You Are", is loose and full of energy.
Janzon adds an infectious introductory descending vamp to the Bronislaw Kaper-Paul Francis Webster standard "Invitation" while the solos by the guitarist and vibraphonist provide a bit of contrast, the latter playing straight bop and the former incorporating a number of quotes into his feature. Interpretations of popular works like Richard Rodgers-Lorenz Hart's "Have You Met Miss Jones" tend to be a bit predictable in jazz settings but the hip opening groove and indirect lead into its melody here signal a willingness to explore fresh territory.
The music by his West Coast trio is equally strong, though more reserved. Janzon's "Latitude Longitude" is a quirky miniature with a playful flair while an easygoing, laidback take of Sam Rivers' "Beatrice" suggests the influence of Jim Hall and Jimmy Raney. Janzon's intimate treatment of Wayne Shorter's "Iris" brings a new luster to this postbop standard.
For more information, visit tomasjanzon.com. Janzon's NY Quartet is at Smalls Jan. 22nd. See Calendar.
WARM STRINGS…Tomas Janzon: 130th & Lenox
by George W. Harris • December 19, 2019 •
Rich guitar workings by men who should be better appreciated…
Tomas Janzon has a sleek Herb Ellis sound as he mixes and matches with vibist Steve Nelson and a rotating team of Nedra Wheeler-Hilliard Greene/b and Donald Dean-Chuck McPherson/dr. The mix of guitar and vibes works well with a hip groove dug on Janzon's own "Somewhere Over Stockholm" and the driving read of "Invitation" with the contrast of chime and elastic strings working wonders. The trio settings have Wheeler given space on a nimble "Beatrice" and Janzon getting spacious with Dean's brushes on a relaxed read of "Monk's Mood." Rich pastels with depth throughout.
http://www.jazzweekly.com/2019/12/warm-stringstomas-janzon-130th-lenox/
Absolutely tasty laid-back guitar jazz Tomas Janzon – 130th & Lenox
By Dick Metcalf, editor, Contemporary Fusion Reviews
November 21, 2019
Absolutely tasty laid-back guitar jazz Tomas Janzon – 130TH & LENOX: I'll tell you right now, folks, this is (without question) the most absolutely tasty & laid-back guitar jazz I've listened to (yet) in 2019. Though the video below isn't a LIVE recording from/for this album, it is a recording of Tomas performing the closer on the album, "The Crystal" (from a melody his mother used to sing for him when he was young)…
…Tomas has many more very pleasant videos posted, so be sure to SUBSCRIBE to his YouTube channel… I did.
I first reviewed Tomas guitar work way back in issue # 108, where he got great marks from my ears… this new album features Steve Nelson-vibes; Hilliard Greene-bass; Chuck McPherson-drums, Nedra Wheeler-bass and Donald Dean drums, and you'll hear on tunes like the 5:17 "Somewhere Over Stockholm" that they've got "groove" down pat for you!
If you enjoy "different" time signatures in your jazz, you'll fall in love with Tomas's original, "Hypnagogic", right away… 11/4, and it invades your space most pleasantly, holding you totally captivated for the entire 4:27 duration.
Of the eleven high-energy tunes Tomas presents for your jazz joy, I found the 4:58 "Monk's Mood" to be my personal favorite… a masterful arrangement by Tomas that will have you hitting "replay" over & over again… I believe this one will be getting some MAJOR airplay on jazz stations 'round the globe.
I give Tomas and his musical companions a MOST HIGHLY RECOMMENDED rating, with an "EQ" (energy quotient) score of 4.99 for this most memorable album.
-Rotcod Zzaj
https://contemporaryfusionreviews.com/absolutely-tasty-laid-back-guitar-jazz-tomas-janzon-130th-lenox/

Jersey Jazz Nov-Dec 2019
Guitarist TOMAS JANZON, originally from Sweden, has been living in New York City since 2010 after many years in Los Angeles, where he was busy playing gigs as well as serving as an educator. 130th & Lennox (Changes Music – 114) is his fifth album as a leader. Five of the 11 tracks were recorded in Los Angeles with bassist Nedra Wheeler and drummer Donald Dean, while the remaining six selections were recorded in New York with vibist Steve Nelson, bassist Hilliard Greene and drummer Chuck McPherson. The program is a mix of standards such as "Softly As in a Morning Sunrise," "Invitation" and "Have You Met Miss Jones;" some jazz tunes, Kenny Dorham's "Prince Albert," "Beatrice" by Sam Rivers," "Iris" by Wayne Shorter, and "Monk's Mood" by Thelonious himself; three Janzon originals, and his adaptation of a traditional Swedish song, "The Crystal." Janzon has a fertile imagination, and plenty of technique, a combination that is irresistible. He has surrounded himself with players of similar abilities for a collection that provides satisfying listening, even after repeated plays.

-Joe Lang, Jersey Jazz
-----------------
Fradley Garner in Jersey Jazz magazine, Oct. 2017:

COAST TO COAST TO COAST is my favorite album by the Harlem- based Swedish guitarist and composer, Tomas Janzon. (Changes Music, Los Angeles, 2006). Recorded in New York, Stockholm and Los Angeles, Janzon plays his 10 short original works in trio settings, backed by changing sidemen, including drummers Ben Dixon, Tony Austin, and bassists Jeff Littleton and Ken Filiano. Recent years in Manhattan have seen him often with bassist Essiet Essiet and drummer Chuck McPherson. This trio toured Austria, Germany, Norway and Sweden in April, including gigs at the Porgy and Bess Café in Vienna and Café Museum in Passau, Germany. "I look forward to start recording my next album in October," Tomas emails. "The working title is 130th and Lenox, a musical reflection on where I live in New York." July and August found Tomas mostly on his own in Sweden, "playing my program 'From Bach to Jazz' for classical guitar." Tomas's trio later performed at the Kalott Jazz and Blues Festival in Haparanda, in the far north of Sweden. By late August, he was back in New York, "teaching at the Crestwood Music Center and playing local gigs." Time off? Not much for this musician. Janzon flew back to his homeland and, with bassist Nedra Wheeler and drummer Will Terrill, are featured at the Stockholm Jazz Festival, October 6-15. And then they'll tour again in Sweden.
"I am following up directly on my own, touring and networking in Latvia and Estonia. It will be especially interesting to work and connect with local musicians over there. Some of them I've already met at the Jazzahead conference in Bremen, and some are new contacts. I have two concerts in Riga and one in Tallin booked so far." Obviously, Tomas Janzon is his own booking agent. "This tour will include clinics/workshops and these will add more content to my new book on improvisation, to be published early next year. Working title same as my new CD: 130th and Lenox, a tribute to my home in New York and the world beyond." The musician's websites offer links to articles in top jazz trade magazines and video links.
-Fradley Garner, Jersey Jazz, Oct 2017.
--------------
Experiences

Jazz Times Magazine:

On Experiences, Stockholm-born, New York-based guitarist Tomas Janzon plays tasty renditions of jazz standards with drummer Albert "Tootie" Heath, bassist Jeff Littleton and pianist Art Hillery. He stakes out some original territory with unaccompanied guitar intro to "Here's That Rainy Day," then plays smooth, Wes-like octaves on the poignant Jimmy Van Heusen number. Janzon acquits himself with warm-toned swing on Montgomery's "Full House" and Charlie Parker's "Billie's Bounce," then digs into Bobby Timmons "Moanin" and Jimmy Smith's "Messin' Around" with soulful authority. He also offers graceful solo renditions of two Swedish folk songs.

Bill Milkowski, Jazz Times Dec. 2010.
LA Jazz Scene:

Tomas Janzon
Experiences
(Changes Music)
Experience is the byword on this latest release from guitarist Tomas Janzon, as his quartet recalls great guitar/organ combos from jazz's recent history as well as the guitarist-as-leader approach so effective for interpreting favorite songs. His 1959 Gibson L7 arch top guitar provides a comfortable texture as he improvises over familiar themes such as "Here's That Rainy Day," "Billie's Bounce" and Moanin'." Blues and a love for melodic emphasis take over and Janzon makes this session come alive.
Art Hillery and Albert "Tootie" Heath provide elder veteran structure to the meeting, respectively, as the pianist/organist and drummer move things along seamlessly. Bassist Jeff Littleton doubles on rhythm and melodic soloing as he complements the unit with a smooth aura. With Janzon's velvet-like textures floating as if on water, the quartet's music moves with soul. In fact, one original song on the program, "Float," arose from that very idea; go with the flow and allow the music to react naturally.
Elsewhere, the guitarist and his crew interpret "Polka Dots and Moonbeams" with dancelike maneuvers, Wes Mongomery's "Full House" with the coolness of a James Bond action star, Jimmy Smith's "Messin' Around" with a strut and ramble, and they call up the blues through their interpretation of "Moanin." Janzon moved to New York after 18 years of high visibility on the LA jazz scene, but he continues to carry the torch of great jazz wherever he goes. After all, that's where his heart lies.

-Jim Santella, LA Jazz Scene, October 2010.
Dr. Dave's Guitar / Music Blog:
Thursday, November 4th, 2010
I have been working my way through a lot of disappointing music lately, but from the very first minute I knew that Experiences by guitarist Tomas Janzon was something special. This is one of those unique albums that will please ordinary music lovers as well as jazz guitar aficionados. Mr. Janzon's style ranges from cool to passionate but always melodic and eminently listenable. Add a trio of superb musicians to the mix and you have one great jazz CD.
Experiences
Tomas Janzon
About one minute into my first listen to Experiences I was convinced that Tomas Janzon is a guitarist to get to know. He has a clean melodic style that concentrates on finding the appropriate note or phrase rather than blasting your ears with pointless technique. Backed by a trio of superb musicians, Tomas Janzon has given us an album that can be savoured by any lover of good music.
Here's That Rainy Day begins with an extended guitar solo that paints the rainy day mood perfectly. The bass enters, then drums, and finally the piano and we are off into a very stylish rendition of this Jimmy van Heusen classic. Tomas Janzon demonstrates his great ear for finding just the right notes throughout, and his playing will delight jazz lovers and captivate guitarists. Anyone can practise untold hours to get very fast, but Mr. Janzon has that special talent that is only earned by those who love the music and work at doing justice to it. And he succeeds brilliantly. This one has lots of great guitar playing, with Art Hillery getting in one fine solo on the piano.
Next we are treated to Dave Brubeck's Theme from Mr. Broadway. This tune asks for a slightly quirky arrangement, and it gets a delightful one here. Mr. Janzon's guitar playing is wonderfully polyphonic at the start. Art Hillery soon takes over on the organ with some of the coolest licks I have heard lately. Then it is back to Tomas Janzon and some fine playing that sounds to my ear like an update of Wes Montgomery, octaves and all. In fact, with the organ so prominent this reminds me of Wes' early organ trio work. Albert "Tootie" Heath gets a chance to solo on the drums and does the band proud before they all join into a wonderful ensemble ending. These guys must love playing together; it sure sounds like it, and they are a joy to listen to.
Float is the first original by Tomas Janzon, a moody guitar tune that links in with the bass to establish its unique feel. Mr. Janzon punctuates his solo lines with chord stabs that give this tune an extra punch. Jeff Littleton finally gets a chance to solo on the bass and he steps up with a chorus that moves the tune into a whole new mood before the guitar returns with the melody. This is one hip little tune that should be covered by a lot of other artists. Nice.
En Dejlig Rosa is a Swedish folk song that Tomas Janzon has arranged, and it certainly has that folk sound in the solo guitar intro. However, it slowly morphs into a swinging tune. Once again Mr. Janzon's ear finds fascinating possibilities within this song, and he provides us with yet another wonderful experience.
Next comes Moanin' which is a song that many of us identify with Art Blakey and the Jazz Messengers (it was written by pianist Bobby Timmons). Tomas Janzon gives us an original take on the song that keeps the essentials of the tune, and its ultra-cool vibe, but adapts it to his own style. The result is a standout track that in many ways typifies this find album: no speed-demon pyrotechnics, just good, solid playing with impeccable taste and style, backed by an incredibly talented trio. And don't be surprised if you hear some echoes of Wes Montgomery's own terrific version of this tune. A tip of the hat to the master is always welcome.
Now Mr. Janzon tackles the Wes Montgomery classic Full House. As he is clearly a fan of Wes, I was particularly interested in this one. With the drums, bass and organ setting a slightly spiky background, Tomas Janzon plays the tune with a mild staccato before moving into some of his boldest flights of improvisation on the album. He certainly deserves a lot of credit for creating his own vision of this tune since the original must be firmly lodged in his musical brain. This is a fine tribute to Wes Montgomery the songwriter.
Blue Bee is Tomas Janzon's other original, and like Float it sets its own unique mood. Nice and tuneful, it steers clear of cliches and overly-sweet harmonies to present an almost understated elegance of expression. Once again you hear this group working together seamlessly to produce the subtlest moods. Let's hope that Mr. Janzon keeps writing gems like this for a long time.
We move back into standard territory with a rendition of Charlie Parker's Billie's Bounce, a favourite among guitarists. Drums, bass and organ get this one off to a swinging start. Tomas Janzon enters in full flight, and the band maintains an infectious bounce through the tune, even while exploring the outside edges. Art Hillery takes an extended organ solo that seems to float over the whole group as it slices through the changes. Thoroughly enjoyable.
Polka Dots & Moonbeams is another standard Jimmy van Heusen number that is given a fresh spin here, another sort of stylish elegance that suffuses the entire album. Once again Tomas Janzon's guitar lines are just gorgeous. Jeff Littleton retains the elegance in his fine solo, which seems to spur Mr. Janzon to further heights before they return to the tune to end.
The final studio track is Jimmy Smith's Messin' Around. No surprise then that this one starts with the organ over bass and drums. Tomas Janzon seems to slide in almost unnoticed until he takes over the solo with some of his smoothest playing on the album. I particularly like his double-stopped lines here, as well as his counterpoint with the bass. The ensemble is as tight as usual and swinging hard on this one. What a great ending to the album.
Except that it's not the end. An added bonus is En Dejlig Rosa [Live], a beautiful solo guitar rendition played before an appreciative audience.
Tomas Janzon has produced a gem of an album that combines wonderfully melodic playing with tight ensemble and a killer sense of swing. Lovers of jazz guitar will definitely want to add this marvellous CD to their collection.
-Dave Walker, Just Jazz Guitar
Vintage Guitar:
Tomas Janzon, Experiences
Changes Music
Tomas Janzon is a traditional-jazz guitarist influenced by Wes Mont- gomery, with hints of Metheny and Scofield. It's also obvious he has one of the best jazz-guitar tones you'll hear.
Most of the songs here are old warhorses that could easily be cliché, but with the imaginative playing of Janzon, keyboardist Art Hillery, bassist Jeff Littleton, and drummer Albert"Tootie"Heath, theyarespared the indignity.
Janzon's fat jazz sound is apparent on the opener, "Here's That Rainy Day." His first solo messes playfully with the melody, while the solo out mixes Wes-like octaves and chords. A hard-swinging version of "Billie's Bounce" hits the solo hard with notes flying everywhere. "Moanin'" captures the inherent funkiness of the Bobby Timmons classic, and the solo is funky and original, but keeps jazz in the mix. "Float" is a Janzon original with a spooky, off-kilter feel where his bop solo fits perfectly. The other original, "Blue Bee," has an airy feel that makes it stand out from the blues and funk. The record closes with a beautiful solo piece, "En Dejlig Rosa,"
which showcases everything about Janzon's playing that make this one of the best jazz guitar records from the past year. – JH

- John Heidt, Vintage Guitar, April 2011
Jazz Podium:
(Vogelsandstrße 32,
70197, Stuttgart
Germany)
He strikes the chords like a butterfly tips upon a branch. His sound only breathes tenderness, it is a pure style without any asepsis. The way in which he develops his pieces is the logical sound of a director and dramatist. His play seems to transcend from any kind of crafting, his artistic sensitivity in which Tomas Janzon softly restores 'old song buildings' is truly a delight. This Swedish guitarist presents himself with an album that guarantees mainstreamers and jazz guitarist aficionados to swoon over, as well as triggering admiration by modern connoisseurs. He avoids Wes whenever he can, even in the "Full House"-quartet with Art Hillary at the B3. His trio takes, with Jeff Littleton-b, and Albert "Tootie" Heath-dr, are unsurpassable delicacies; with his own "Float" and an interpretation of the Swedish folklore "En Dejlig Rosa"; his "Here's That Rainy Day" plays from and into your heart; or his harmonic finesse on "Polkadots and Moonbeams". The quartet tracks with the organ (like Jimmy Smith's "Messin' Around") avoids in a sovereign way the mantrap of being 'heard-too-many-times', the same goes for the Quartet when it plays "Moanin" – with Art Hillary on the piano. Tomas brings light and air in the mainstream canon. His caution, his truly impressive and emotional charisma turns every piece into a feast. Guitar jazz has rarely been that beautiful. He and Giorgio Crobu in a duo – that would be something !

-Alexander Schmitz, Jazz Podium, Nov. 2010.
Jazz Journal:
United Kingdom
Swedish guitarist Janzon's move to Stateside almost two decades ago certainly put him closer to his influences. He plays flawless 60s West Coast Jazz in the Wes Montgomery style (note the drummer Albert Heath played on Montgomery's Incredible Jazz Guitar in 1960). The originals here show a more modern compositional approach but the tone and the nimble fingering together with solid accompaniment ensure a consistency with covers such as Polka Dots And Moonbeams, Moanin' and - but of course - Wes's Full House. This has the feel of being a very 'classic' jazz album it that it has a group of people puting their own stamp on the music; a few new tunes; a few covers; a few standards; some great playing and plenty enough invention.

Dave Foxall -Jazz Journal, UK.
Cadence magazine:
Listening to Swedish guitarist Janzon, I thought of the guitar heroes standing behind him—Montgomery, Farlow, Hall, and others, although this is not a derivative effort in any limiting way. Rather, it is a throwback to Jazz recordings where there's a constant urging interplay, and if it occasionally sounds like a great Sixties or Seventies effort, that's a compliment—owing much to the solid backing given Janzon by the rhythm players, especially veteran Heath. The two versions of the Swedish folk-song (one live, one in the studio) show the guitarist's subtle, feeling way with a melody. I especially enjoyed "Polka Dots"—which began with a genuinely indirect introduction—in a world brimming with Jazz guitarists, Janzon should be far better known.

–Michael Steinman, Cadence jan-feb-mar 2011.
Jersey Jazz:
Swedish-born guitarist TOMAS JANZON has been living in this country for about 20 years, and has absorbed a lot of the influences of the giants of jazz guitar who have plied their
trade on these shores, particularly the players who spent some time in organ combos. For Experiences (Changes Music – 113), Janzon has three veteran players, pianist/organist Art Hillery, bassist Jeff Littleton and drummer Albert "Tootie" Heath, as cohorts on a 10-song program that finds him fronting various combinations of the personnel. There are five quartet tracks, with Hillery playing piano on two of them, "Here's That Rainy Day" and "Moanin'," and organ on the others, "Theme from Mr. Broadway," "Full House," and "Messin' Around;" and five trio tracks four with Littleton on bass, "Float," "En Dejlig Rosa," "Blue Bee" and "Polka Dots and Moonbeams," and one with Hillery on organ, "Billie's Bounce." There is also a solo guitar track taken from a club date in Sweden where Janzon played an improvisation on "En Dejlig Rosa," a Swedish folk song that he also addresses with the guitar/bass/drums trio in the studio sessions noted above. My particular favorite tracks are the opener, "Here's That Rainy Day," and "Moanin'." Janzon's two originals, "Float" and "Blue Bee," are infectious melodies that fit in nicely with the more familiar tunes. Janzon has developed an individual voice that has many facets as shown on this eclectic set. Check him out!
Joe Lang - Jersey Jazz magazine
Jazz Guitar Life - Lyle Robinson:

Tomas Janzon, Stockholm born, New York based, is a stimulating jazz guitarist in the style of Wes Montgomery, Sal Salvador and Kenny Burrell. And while steeped in the Jazz Guitar tradition, Janzon, at times, extends his improvisations towards a more modern flavor, employing subtle dissonant harmonies and more than mainstream melodic development. Check out the Janzon compositions "Float" and "Blue Bee" for a peek into his musical mind, no doubt influenced in part by his associations with Joe Diorio and Ken Filiano.
That being said, deep down, Janzon is a stone hard-bopper whose captivating swing and blues/bop based lines captures a sound and vibe that harkens back to a time when Jazz Guitar was all the rage and Montgomery was King! Which may be why there are at least four tunes on Experiences associated with Wes himself: "Here's That Rainy Day", "Polka Dots & Moonbeams", "Billie's Bounce" and Wes's own "Full House". Whether this was part of the overall design, or more of a sub-conscious play, Janzon makes no apologies as he dives into these tunes with soulful aplomb. And while it's obvious that Janzon digs Wes, his playing is anything but a rehash of the same old, same old.
Case in point is Janzon's solo intro to "Here's That Rainy Day" as he descends slowly down the fretboard creating a sonic shimmering of dissonant counterpoint before stating the acclaimed melody in octaves ala you know who with the rest of the band. A few tunes down, Janzon sets up "Polka Dots & Moonbeams" with a corresponding musical "double-take" as he plays a succession of chord shots that make you wonder how he's ever going to establish the oh so memorable melody. But rest assured, he does so, nicely!
For the most part, these are the only harmonically intrepid revelations on the CD as Janzon and company play the remaining nine tunes within the spirit of Jazz cool. Along with the above mentioned tunes, classic compositions like "Theme From Mr. Broadway", "Messin' Around" and the ever swinging "Moanin'", get a real work-out from everyone concerned, as they stay true to the era that spawned them in the first place. Janzon's swinging solos, fluid lines and deft comping showcase his breadth of the Jazz language, while his fondness for a more down to earth bluesy approach lends a maturity to his style. I would certainly rank him up there with the likes of Randy Johnston, Jack Wilkins, Russell Malone and the aforementioned Wes Montgomery, although I feel that Mr. Janzon would be too humble to accept such an accolade.
And speaking of accolades, one of the scene's most well-established drummers, Albert "Tootie" Heath, lends his inimitable style to the CD's eleven tracks with a fervor that keeps heads a boppin' and toes a tappin'. What a dynamic ride he brings us on as he snaps, crackles and pops his way through the charts as only "Tootie" can!
The remaining players, pianist/organist Art Hillery and bassist Jeff Littleton, are no less stellar, bringing with them a musical resume that includes playing alongside the greatest names in Jazz. Which is why I believe Janzon titled the CD Experiences. Whether it is a quartet, organ trio, or guitar trio, the individual experiences each player brings to the table makes for a dynamic CD that transcends personal egos and marquee status aspiration. Bravo guys…bravo!
I must admit that even though Experiences is Janzon's third official CD to date, I had not heard of him until I had received this CD. I'm glad I now know of another great player deserving of much wider recognition. Janzon's Experiences is sure to enhance YOUR listening experience and I hope you add him to your collection of must listen artists. I don't think you'll be disappointed.

-Jazz Guitar Life - Lyle Robinson
Jazz Society of Oregon:
Experiences, Tomas Janzon, guitar.
A native of Stockholm, Janzon grew up with both Bach and Bird. Now an active part of the New York scene, Janzon assembled a stellar cast. His quartet includes veterans Art Hillery, piano and organ, Jeff Littleton, bass, and Albert "Tootie" Heath, drums. The quartet opens with a Wes-like "Here's That Rainy Day," taken a skosh faster than usual. Dave Brubeck's "Theme For Mr. Broadway," a big city blues, follows. Janzon's originals include "Float" in æ time; "Blue Bee," which arrived in Janzon's conception during a rehearsal; and "Messin'Around," a funky little blues line which the group has taken to using as an opener. Other familiar choices include Bobby Timmons' "Moanin'"; Wes's "Full House"; Bird's "Billie's Bounce"; and from the American songbook, "Polka Dots and Moonbeams." I would guess that Montgomery is the #1 inspiration for Janzon. His spirit lingers throughout this session. Janzon and his super colleagues succeed on every level. I look forward to hearing more. Changes Music, 2010, 52:50
–George Fendel, Jazz Society of Oregon
Midwest Record:

TOMAS JANZON/Experiences: Hey, even if we never heard your jazz guitar, if you can tell us you have a Heath Brother on board, you've caught our attention. Here's a rising guitar ace that knows his Wes and shows he's knows how to apply it to living jazz history whether running it through chestnuts or classics, leading all the way with great style. Mostly post bop in flavor and attitude, this is a mellow guitar date that is right in the genre's hip pocket. Well done.
CHRIS SPECTOR, Editor and Publisher
MIDWEST RECORD


Jazz Guitarist Tomas Janzon's Purist Experiences
Maybe because today is a grade A grey day (to steal a line out of the Wade Schuman songbook), albums like jazz guitarist Tomas Janzon's new one, Experiences, sound expecially good. Case in point: Jimmy Van Heusen's Here's That Rainy Day, which opens it. His raindrop approach is just understated enough to avoid being obvious. Janzon is well-known in Sweden; this seems to be an attempt to broaden his horizons outside his native land, and it ought to work. He takes a smart, laid-back, purist approach: Wes Montgomery is the obvious influence, but only one of many. His band is choice. Legendary Coltrane drummer Tootie Heath, in uncannily subtle mode, absolutely owns this album, coloring the songs with a quiet deviousness that sometimes spills over into unrestrained glee, alongside fellow veteran Art Hillery on piano and organ and Herbie Hancock sideman Jeff Littleton on bass.
Dave Brubeck's Mr. Broadway gets a devious, somewhat furtive organ-and-guitar treatment, playing up its tongue-in-cheek humor even more than the original. Heath carries The Float, an original, alternating between an artful jazz waltz shuffle and cymbal-driven atmospherics, later enjoying a sly conversation with Littleton when the bass solos. A pretty Swedish folk song gets a treatment that's part Wes and part McCartney, with a brief, solo live reprise at the end of the album. Moanin' gives a quick nod to Jerry Garcia, Janzon's warmly soul-tinged lines over Hillery's staccato chords and Heath's winking, on-and-off shuffle.
Yet another jazz waltz, Montgomery's Full House, as Janzon wryly alludes in the liner notes, "adds nothing" to the original, but it's inspired and true to form nonetheless. There's also the pensively shuffling original Blue Bee; spiky, impressively spacious versions of Billie's Bounce and Polka Dots and Moonbeams, and a terse, purist, bluesy cover of Jimmy Smith's Messin' Around. American guitar jazz fans should check out this guy stateside when he's not in his dear old Stockholm.
Alan Young, Lucid Culture.
Tomas Janzon: Subtle and Swinging Guitar
If you like a mainstream sort of jazz guitar, there's Tomas Janzon, Swedish native, New York resident, and someone who benefited greatly from listening to Wes Montgomery. He has a CD out this season, Experiences (Changes Music 113), and it manages to put together chops with a kind of charm.

He's playing a 1959 Gibson semi-hollow, and he turns down the treble to get that mellow sound that Wes and others of his era favored. He's wisely chosen a threesome of players who know how to get the most out the style Tomas works within. "Tootie" Heath is on the drums, and he sounds as good as he ever did. Art Hillary on organ & piano and Jeff Littleton on acoustic bass make the session a breeze.

The program runs through a couple of American Songbook standards, five jazz repertoire staples, a Janzon original, and a Swedish folksong in a studio and a live version.

What's important is how Janzon shows his Wes roots and admiration by building on the Riverside-period sound and style of the master rather than slavishly imitating him.

I find that worth plenty of ear-time. If you follow the Montgomery school of stringing, this will be a good one to pick up. It's quite enjoyable regardless.
LiRA music magazine:
Gothenburg, Sweden

Den New York-baserade gitarristen Tomas Janzon håller sig inom jazzmodernismens tydligt definerade ramar på Experiences. Han spelar i traditionen från de stora swing- och bebopgitarristerna. Tillsammans med trummisen Albert "Tootie" Heath, basisten Jeff Littleton och Art Hillery på piano och orgel skapar han avspänd och kristallklart svängande musik, vars mjuka gung försänker lyssnaren i behagfull njutning men som därför också kan bli förledande. Musiken är motståndslös, men det behagfulla blir aldrig behagsjukt.
Därtill är improvisationerna alltför fokuserade, samspelet alltför tätt och den rytmiska energin alltför påtaglig. Tomas Janzon har ett mjukt anslag, en krispig ton och jag njuter av att dras in i hans melodiska flöde och läckra skalklättringar. Skivan rymmer klassiker både från swingen, bebop och hardbop, men även originalmaterial och ett par vackra improvisationer kring En dejlig rosa. Det är ypperlig musik.
Magnus Eriksson, Lira, 2011.
Coast to Coast to Coast
Brick's Picks:

This Friday, April 3, is looking good, with a rare local appearance by Swedish guitarist Tomas Janzon and his excellent quartet (pianist Art Hillery, bassist Nedra Wheeler and drummer Donald Dean) at the Sheraton downtown, running from 6 to 9 pm. His playing is coolly European, with a wonderful sense of space, and we especially dig his Coast to Coast to Coast (and the rare Live in Stockholm too).
-Brick Wahl,
LA Weekly, April 3-9, 2009.
JAZZIMPROV Magazine, Feb. 2008, Vol. 7, no 4.

All compositions in Coast to Coast to Coast are by Tomas Janzon, composer and guitarist extraordinaire! On this project he covers the moods and modalities of not just the three coasts of the United States...qualifying him as an transcontinental guitarist...he enlivens his ideas and his playing with global sensibility and intensity. Insofar as this is so, one needn't worry about the typologies and genres of the ten tunes recorded here. Janzon, in short, contains multitudes in conception and execution of his music.

Whether viewed as jazz, fusion or "world" music, here are some transcendent tunes: for the here and now, the where and when, the then and there, the inside and outside. The presence of Birger Thorelli's marimba adds to the beyond-bonds nature of most of the tunes, plus, of course, the rather "wet" tones of Janzon's guitar with just the right smidgen of reverb and distortion, treble and bass.

Modality changes into swing and back again, as in, especially "Wescology" where the strains of the inimitable Wes Montgomery take over from likes of Abercrombie and Scofield. In this track Janzon's way with effects and looping reinforce the textures present in the tune, whether through allusion to another artist or line.

"Diminued," far from diminishing anything, other than a scale or two, continues the tradition of fine guitar and piano collaboration, with Janzon soloing or comping his way in and out of unison and into and beyond the vibrations and tensions of tremolo. "Four AM" evidences a shift in guitar from steel string to nylon with a mood shift in keeping with the late-night/early-morning rhythms of that ambiguous time. Here too the ending of the song affords an ideal cap to the mellifluous proceedings.

In "Urgencity," "Sanding," and "The Hearness," Janzon displays his adroit adaptation of scales and chromaticism to lyricism. At once similar-sounding and unique, each of these tunes (and the entire CD) never lapses into redundancy, each offering a fresh start, a deft progression thorough the various realms and capabilities af the guitar always eschewing pure guitaristics for their own sake. The music not the instrument remains the end.

The "Blue Jay" is a memorable example of melody - dramatizing the egalitarian nature of "birdness," be it squawker or crooner, proving yet again the role of bard as bird. "The Day Before" is a bluesy version in more upbeat reverse, presumably, of the morning after. "A Week from Now" slows things down considerably and the CD ends on a more contemplative, melancholy mood with none of the anxious urgency of "Urgencity."

Jim Hall, who knows as much about the guitar as anyone, is known for the thought he gives to any set or play list, knowing that sequence and theme also communicate a message. So it is too with Janzon who not only composed the tunes here but also composes the total experience of the CD. Just the right progression of themes and tempos, just the right variety of long running times with short, just the right instrumentation for any given tune, hitting, as the CD title metaphorically suggests, all the points of the compass, all the coasts and all the landforms between. It's a tour designed for listening and savoring. If only all such recording projects were so considerate, so admirable.
-Bob Gish
Jazzimprov Magazine, Feb. 2008, Vol. 7, no 4.


---
JazzTimes, America's Jazz Magazine
Undertones from the March 2007 issue
TOMAS JANZON
Coast to Coast to Coast (Changes Music)
Each of the three sessions that comprise Coast to Coast to Coast place guitarist Tomas Janzon in a distinct setting, but all are unified by a crispness and intimacy that highlights Janzon's cool, subtle
style. An urban nighttime vibe pervades four trio cuts: drummer Ben Dixon and bassist Ken Filiano are in complete agreement. Birger Thorelli's sneaky marimba playing highlights a quartet date full of
clever eccentricity. Rounding out the disc, William Henderson brings tasteful piano accents to three lightly swinging tracks. The tunes are all short and to the point, idiosyncratic but approachable and engaging.
-Forrest Dylan Bryant
JazzTimes Magazine - March 2007
---

Coast to Coast to Coast
- LA Jazz Scene
With a program of 10 new and original compositions, guitarist Tomas Janzon turns up the flame of jazz's modern mainstream through his latest album of adventurous music. Featuring his L.A. band as well as groups in New York and Stockholm, he romps through an affair that pushes the guitar in a vibrant direction. On a Wes Montgomery-inspired number, he swings happily in a grove collective that holds true to form. Like Montgomery, the guitarist attains a fluid texture that settles in comfortably with attention-grabbing results.
While Janzon's lyrical guitar remains the album's focus, his three bands add variety. With bassist Ken Filiano and drummer Ben Dixon in New York, we get a combination of the raw urban scene and the heartfelt soul behind it, as Janzon's guitar tells stories that linger. In Sweden with Birger Thorelli on marimba, Lars Ekman on bass and Ali Djeridi on drums, the guitarist explores a laid back approach that agrees with his velvet melodies. In L.A. with pianist William Henderson, bassist Jeff Littleton and drummer Tony Austin, Janzon reaches out for new and different ways to improvise on a theme. Each of the double bassists contributes a pure sound on these sessions, while Janzon's drummers shade eloquently. His guitar expresses with a vocal-like lyricism that weaves through the album like golden threads. Whether in Los Angeles, New York or Stockholm, Janzon continues to provide a new and creative voice on the horizon for today's generation of jazz lovers.
- Jim Santella
L.A. Jazz Scene, January 2007.
Issue No. 232
---

Dagens Nyheter, 2007.

Tomas Janzon: "Coast to Coast to Coast" (Changes Music/CDA)
hjärta = redaktionens älskling

Tomas Janzon är en svensk gitarrist bosatt i Los Angeles. Här spelar han med sin grupp därifrån, liksom med musiker baserade i New York och Stockholm. Det är modern mainstreamjazz utan onödiga krusiduller men med nerv, närvaro och tyngd.
Janzons egen spelstil är avspänd och blåtonad; han sysslar inte med tekniska uppvisningar utan spelar för låt och stämning. Av de tre olika kompgrupperna som figurerar på skivan är alltså en svensk, med Lars Ekman på bas, Ali Djeridi på trummor och Birger Thorelli på marimba. De amerikanska musikerna är okända för mig, men inte minst bandet från Los Angeles passar Janzon som hand i handske. Själv har jag aldrig varit på amerikanska västkusten, men den här skivan håller mina romantiska föreställningar vid liv.

-Johannes Cornell
DN, Publicerad 14 mars 2007.
---

Coast to Coast to Coast - All About Jazz

Guitarist Tomas Janzon has put together a selection of cleverly concise originals within the context of a spacious and airy trio/quartet format for his latest Coast to Coast to Coast. The trio consisting of Janzon, bassist Ken FIliano and drummer Ben Dixon provides well developed interplay. Janzon's dry tone on the electric guitar mixes well with Dixon's brushwork on the bluesy "Sanding." Likewise, his acoustic picking on "Four AM" is reflective and pensive. William Henderson's piano and Birger Thorelli's marimba add an extra dimension on the quartet pieces. The marimba/guitar unison lines on "The Croak" are quite infectious, reminiscent of the classic work of Charles Mingus, Tal Farlow and Red Norvo. The boppish "The Day Before" and "Urgencity" feature concise interplay between Henderson's piano and Janzon's guitar. Never overpowering, Janzon's bands impress you with their low key precision and clever use of space and tone. Janzon has his own sound on guitar, and uses it well in this well framed setting that should excite listeners
from coast to coast to coast.
- George Harris
All About Jazz - Los Angeles
December, 2006.
---

Live !
Tomas Janzon in Sweden 2005

...Evocative and extremely competent. Classicaly trained Janzon often uses his fingers for plucking the notes, creating a softer sound. He paints with sonorous colors, free from clichées, with both back-beat and Bach-beat sometimes, using an extremely nuanced chordal approach.
- Bengt Öster, TTELA (Trollhättan, Vänersborg) March 23, 2005.


.....Suggestivt och oerhört kompetent. Klassiskt skolade Janzon använder högerhandens fingrar flitigt vilket ger ett softare sound. Han målar med klangrika färger, fria från klichéer, med både baktakt och Bach- takt emellanåt och oerhört nyanserat ackord-spel.

- Bengt Öster, TTELA (Trollhättan, Vänersborg) 23/3-05.


---
Tomas Janzon at the Los Angeles County Museum of Art
November 26, 2004

Guitarist Tomas Janzon brought his original spirit to LACMA with splendid results. In three powerful sets, he reflected blues-laden memories of Wes Montgomery and Django Reinhardt, as well as the fire and complexity found in the work of the Dave Brubeck Quartet. Fresh originals and standards such as "Moanin'," "All the Things You Are," "Here's That Rainy Day," and "Have You Met Miss Jones" were interpreted with authority. Janzon gave each selection a varied appearance, as his guitar wove intricate melodic patterns through the fabric of familiar song. His fluid lines produced thrilling results and meshed with his musical collaborators effectively.

–Jim Santella
All About Jazz
Published Dec. 21, 2004.


---
Translated review from Norbottenskuriren 12 nov. 2004:

Grooving Hardbop in Piteå

...Much of Tomas Janzon's music relates back to hardbop, the soul influenced style of jazz, connected with Art Blakey and also Cannonball Adderley, in terms of guitar playing Wes Montgomery. Tomas Janzon's tough, clear and inventive style with small ornaments sprinkled here and there was matched with Martin Sjöstedt's extraordinary and pulsating bass playing and Ali Djeridi's driving and energizing drumming. Following the track laid out by the message music of the engaged sixties. One could hear several examples like Bobby Timmon's "Moanin'", but also Janzon's original compositions as Space Mail. Ther was also room for a few jazz standards like "Here's That Rainy Day" and "All The Things You Are".

"Invitation", in a intense tempo, became one of the high-lights together with Wes Montgomery's "Fried Pies" played with a grooving swing.

-Gunnar Lindgren, Norrbottens-kuriren, 12 nov. 2004.


Pulserande hardbop i Piteå

Tomas Janzon Trio med Ali Djeridi-trumset, Martin Sjöstedt-kontrabas.

Mycket i Tomas Janzons musik går tillbaka till hardbop, den soulpräglade jazzmusik som förknippas med Art Blakey och hans Jazz Messengers och även med namn som Cannonball Adderley och när det gäller gitarrspel Wes Montgomery.
Tomas Janzons tuffa, klara spelstil, fyndig med små ornament inströdda här och var, matchades av Martin Sjöstedts fenomenala, kraftfullt pulserande basspel och Ali Djeridis påskjutande, pockande trumspel, helt i linje med 60-talets engagerade budskapsmusik.

En rad exempel på tidens musik spelades också, Bobby Timmons Moaning till exempel, men också en del eget material av Tomas Janzon som inledande Space Mail. Några standardmelodier fick också plats, Here's That Rainy Day och All The Things You Are. Invitation blev en av höjdpunkterna i ett intensivt tempo, tillsammans med Wes Montgomerys Fried Pies, som istället spelades med härligt gungande studs.

-Gunnar Lindgren, Norrbottens-kuriren, 12 nov. 2004
(reprinted without permission)..
---
Tomas Janzon at The Westin Los Angeles
by Leroy Downs on August 26, 2004
The chords played on the guitar are so sweet! Tonight, it's a quartet but, since the bass player is on the way, the Trio kicked off the set. Tomas Janzon, Art Hillary and Frank Wilson opened the set at the Westin with beautiful melodies as intimate and wonderful as can be played in a lobby full of people. The Trio was so tight that I don't think that the crowd noticed that there was suppose to be a fourth.
Standing up grooving or sitting down to comp or play all of these great harmonies, Tomas Janzon was right on time. He has been traveling recently and just got back from Stockholm and New York City to land right here for his second engagement here at the LAX Westin. Regular fans of Tomas were in the audience and they were happy to hear him perform!
Check his website for the next upcoming gig!

-LeRoy Downs
---
Los Angeles City Beat, October 16-22, 2003. Vol 1, No 19.

Jazz Critic's Choice: Tomas Janzon Trio

Ever since Dizzy took his band to Stockholm in 1947 and Chubby Jackson went there in '49 with his great quintet, the Swedes have been jazz-mad. (They still talk about Charlie Parker's '51 tour of Sweden over there.) Miles took a Swedish folk line, bebopped it, and titled it "Dear Old Stockholm," adding to the jazz repertory. Guitarist Tomas Janzon played Bach fugues on the cello in his native Stockholm, but he always improvised in his head. The first blues he heard was Charlie Parker's "Cool Blues" (cut in L.A.), and it connected with the melancholy and minor tonalities Janzon heard in Swedish music. He switched to guitar and came to L.A. in '91. His playing has the prolific, fleet inspiration found in Swedish folk fiddling as well as the minor-chord reflections. L.A. has allowed him to explore rhythm in a deep way, and his trio with swinging bassist Nedra Wheeler and equally funky drummer Frank Wilson has extended that aspect of his playing. They'll do two afternoon sets as part of downtown's American-Scandinavian Fall Festival.

-Kirk Silsbee
(reprinted without permission).

---
Eleganternas Trollspö

Jazz i Svaben Festival 23 Aug. 2003

..så är amerikasvensken och mainstream-gitarristen Tomas Janzons kvartett en rätt

stor segelbåt med mycket vit segelyta som glider fram på ett lätt krusat och solglittrande jazz-bossa-hav. Och farkosten håller hyfsad fart. Det blåser till och man hisnar lite emellanåt, men det blir definitivt aldrig farligt. I besättningen sitter en namnkunnig och trygg skara musiker och borgar för kvalitén och tryggheten; Berndt Egerbladh på piano, Hasse Larsson på bas och förra årets Christer Boustedt-stipendiat Gilbert Matthews bakom det gula trumsetet.

Tomas Janzon kommer till Sverige några gånger om året och gör konserter i lite olika konstellationer. Hans ton är mjuk och säker och leder kvartetten iväg på utflykter mot visjazzens ängder med Jag vet en dejlig rosa. Janzon tar också en solosväng som är så vacker att till och med lite sol blänker till i lokalen -vilket i sin tur får pianist Egerbladh att glimta till också.

Det är eleganternas högtidsstund. De gör några sirliga figurer med sina trollspön och ur jazzhatten trollar de fram en på alla sätt stilig och välgödd kanin med skinande blank päls.

-Anders Jansson, Ljusnan, 25 Aug. 2003.
(reprinted without permission).

---

Live In Stockholm

feat. Bobo Stenson-piano
(CD avilable)

From allaboutjazz.com January 2003:
Tomas Janzon Quartet | Changes Music

This brief session (18:22) was recorded for Swedish radio last year. It represents part of a concert that Sveriges Radio P2 broadcast live from the Jazzclub Fasching in Stockholm. To experience tracks from guitarist Tomas Janzon's full-length album, visit tomasjanzon.com.

Live In Stockholm offers an adventurous Wes Montgomery style affair with quartet. Straight-ahead jazz fans within the radio station's broadcasting radius can consider themselves fortunate to be able to enjoy this session. Janzon emphasizes the acoustic sounds from his instrument. "Six on Five" blends meters of six and five in an up-tempo romp with plenty of stretching from guitar, piano, and bass. Janzon and pianist Bobo Stenson share an appreciation for exciting improvised counterpoint. Montgomery's "Full House" waltzes appropriately at a moderate tempo to infuse more effervescent action. Guitar and piano interact with bass and drums to stir things up. Janzon coolly weaves his melody around the trio's action to interpret timeless music.

Originally from the Stockholm area, Janzon moved to the U.S. and continued his study of the guitar at both the Guitar Institute in Los Angeles and the University of Southern California. His master's degree in classical guitar offers proof that Janzon has the right tools. And his recordings offer proof that the guitarist's swinging jazz style comes straight from the heart.


~ Jim Santella
(reprinted without permission).

---
Enkelt och svårt

OJ Orkesterjournalen nr 1, 2003.


Tomas Janzon, Jazzclub Fasching, Stockholm, 19 november 2002: Janzon g, Bobo Stenson p, Christina Spering b, Petur "Island" Östlund dr.


Den till Los Angeles utflyttade gitarristen Tomas Janzon har återvänt allt oftare till sitt hemland och framträtt med tillfälliga grupper. 2001 hördes han på Skeppsholmfestivalen och Glenn Miller Café med musiker från USA och Sverige. Sommaren 2002 besökte han Borgen på Gärdet i Stockholm. Det aktuella framträdandet på Fasching föregicks av två musikerbyten. Trumslagaren Gilbert Matthews åkte till Paris för att spela med Benny Golson och i sista stund blev basisten Palle Danielsson sjuk.

Gruppens repertoar var till stor del skriven av Janzon. Han hade inte gjort de lättaste arrangemangen. Det bläddrades flitigt i notpappren. Moanin' av Bobby Timmons togs i ovanligt högt tempo, melodins karaktär ändrades radikalt. Wes Montgomerys Full House togs i en mer lagom fart som passade gruppen mycket bra. Autumn Leaves blev ett lyriskt extranummer.

Janzon spelade melodiskt och njutbart, och briljerade inte alls med sin tekniska skicklighet. Han ackompanjerade när Bobo Stenson och Christian Spering var solister. Stenson förenklade sitt spel, särskilt i bluesnummer, och agerade kraftfullt och mycket övertygande.

-Sven Boija,
(reprinted without permission).

---
Fylligt och originellt i Väddö kyrka

Tomas Janzon, med släkt i Norrtälje, numera boende i Los Angeles, USA, sedan 1991, är hemma och gästspelar, och på onsdagskvällen uppträdde han med sin trio i Väddö kyrka.

"Längtan kan ibland bli nästan religiöst stark efter den svenska sommaren" berättar han, och just då bryter solen in genom Väddökyrkans vackra välvda fönster och lyser upp altarrundeln.

Tomas inleder ensam konserten på sin spanska gitarr med några klassiska stycken av bl.a. Tarrega, den spanska gitarrens fader, för att därefter gå över till lite mer jazzbetonat och avsluta med några klassiska svenska folkvisor, bland andra "Kristallen den fina" och "Visa vid
midsommartid".

Jag frapperas genast av hur väl den ensamma akustiska gitarren når ut till oss i kyrkan, och med vilken självklar auktoritet hans fingrar löper över strängarna och väver in melodierna i fylliga, originella ackord.

Nu är det dags för resten av trion att presentera sig, med Ali Djeridi på trumset och Marcus Wikström på kontrabas. En mycket vacker tolkning av den gamla folkvisan "Jag vet en dejlig rosa" blir resultatet.Trion fortsätter med örhängen som "Att angöra en brygga" och "Båtlåt". Därefter är det dags för en presentation av Tomas många egna kompositioner. "Twentyseven Years". En låt komponerad till Nelson Mandelas ära.

Mandela satt just i 27 år i fängelse i Sydafrika innan han blev dess ledare. Ett livsöde som gjort intryck på också på Tomas Janzon. Ett underbart och finstämt stycke, sammanhållet av Tomas virtuosa gitarrspel. Den utgör också den sista låten för denna kväll, kallad "Från Tarrega till Hårga", men publiken vill höra mer. Efter någon minut beslutar sig Tomas för att det får bli en jazzstandard. "Autumn Leaves".


Den är vacker! Förhoppningsvis är det ett tag till hösten, tänker jag, när jag går ut i sommarkvällen.


-Gösta Colliander, Norrtelje Tidning, 26 Juli, 2002
(reprinted without permission).

---
Uppsala Nya Tidning, April 2002

Tomas Janzon är tillbaka i hemlandet för några workshops (bl a i Uppsala 9 april) och släpper sitt album X-Changes från 1999. Janzon är en fingerfärdig musikant som spelar i den traditionella skolan.

-Björn G Stenberg
(reprinted without permission).

---
Lucy Florence, Sunday Nights

This Side of The Midnight Sun

Swedish-born guitarist Tomas Janzon moved to L.A. 10 years ago from Stockholm because he wanted to come to the sources of the music he loves, jazz. "It truly is an American art form - Europeans can do it well, but it's just not quite the same," he told me in a recent interview. Well, Janzon should consider himself Americanized - he is a marvel of the fretboard, conjuring up images of Wes and Django in his straightahead stylings. He is currently in the midst of an open-ended Sunday night residency at Lucy Florence, a funky little club down in Leimert Park across from Billy Higgins' World Stage. In addition, he has excellent taste in sidepeople - the rest of his trio is made up of bassist Nedra Wheeler and drummer Frank Wilson. For some of the tastiest guitar playing this side of the Midnight Sun, go check out this fine trio.

Paul Andersen
(reprinted without permission).

Entertainment Today May 25-31,2001.

---
X-Changes
From Jazz Improv vol 3, no 1., (Jan.2001)

"A Real Jazz Players 's Album"

The first cut, called "Space Mail," tells us we have an intelligent player on our hands. The intervallic approach to this Janzon original sounds like "Pat Metheny meets Larry Coryell" - not necessarily the guitar sound, but the way the interplay among the ensemble enhances the playing techninque. The second cut continues this interesting sound texture with a tune that I would have mistaken for a standard or even another Metheny song. This Latin percussive texture works well with drummer Sherman Ferguson on brushes and the acoustic bass playing of Nedra Wheeler.

"The Blue Frog" opens with a tenor sax and guitar melody that smoothly works into Janzon's bluesy, over-the-top groove. I like the way that Janzon's second guitar appears to be part of the original section. The solo bass works well on this.

The Victor Youg tune, "Beautiful Love," shows that Janzon has the skill to arrange. He takes this and weaves a subtle counter melody along with the original before moving into the solos on the chord changes. The rhythm section shines by maintaining the strong backing needed to allow the guitar its own exploration. You can hear the vocal "groaning" on this one.

"Six on Five" sets a nice pace with the bass line over which Janzon gets into the feel once again and offers an interesting Scofield-like twist on melodies with the comping. Drums and bass are locked in tightly with a nice percussion fade at the end. "Catch'er" gets even more "funky" with a rhythm groove that grabs the tenor sax playing of Louis Taylor. The guitar becomes more blues oriented slightly hints of the R&B groove at times. This is a jam piece for live performance where everyone can stretch.

Cut seven, "Archipelago Away," returns to the more elusive melody and mood setting of the Metheny and Frisell compositions of late. "Fe-Fi-Fo-Fum" is a Wayne Shorter tune that begins with a solo guitar introduction that adds the bass backing of Nedra Wheeler with interspersed percussion by Sherman Ferguson. The playing at times reminds me of Joe Pass, had Joe ever played the equipment that Janzon does. The sound is very close. I wish the playing of Nedra Wheeler was higher in the mix. This is a solid bassist in the jazz tradition of upright playing.

The CD ends with a 54 second taste of Sonny Rollins' tune (arranged by Janzon) called "No Moe." This is a real jazz player's album. I only wish there was more!

-Don Price
(reprinted without permission).

---
From Cadence Magazine,
July 2000

Janzon is a guitarist of obvious merit. His work on X-Changes uncovers a musician with an abiding love and appreciation for the variety of tonalities available to his instrument with the aid of amplification. Most of the tracks feature his working trio, with three cuts adding Taylor and another substituting the legendary Higgins for Ferguson in the drum seat. Though his lines are often heavily amplified, Janzon?s fretwork remains surprisingly agile and crisp. Recognizing their rhythmic responsibilities, Wheeler and Ferguson often adhere to a supportive role. Their concessions allow Janzon the room to move around and he takes full advantage, crafting thoughtful solos without ever sounding domineering. The tunes with Taylor sharing the frontline necessarily work off a slightly different dynamic and a funkier bent, but are no less stimulating. Adding a great deal to the disc?s successful deployment of tunes is the breathtaking clarity of the recording. This disc is easily recommended to listeners with a taste for mainstream Jazz guitar that retains and rejoices in a creative edge.

-Derek Taylor
(reprinted without permission).

---
Jazz Facts 2000

STIM-Svensk Musik

Tomas Janzon lever och verkar sedan ett antal år i Los Angeles, Kalifornien, USA. Där har denne gitarrist en kvartett med trumslagaren Sherman Ferguson, basisten Nedra Wheeler och saxofonisten Louis Taylor. Men han spelar också regelbundet med namn som Billy Higgins och Alphonso Johnson.

I botten är Tomas Janzon en klassiskt skolad gitarrist. Han gick på Musikhögskolan i Stockholm, Sverige, innan han hamnade på The Guitar Institute och USC Thornton School of Music - och blev kvar.

Den bakgrunden kanske förklarar hans utomordentliga teknik, men de friska och varierade idéer som genomsyrar "X-Changes" har sina rötter i honom själv. Hör bara på den rytmiskt trixiga "Six on Five", den bluesigt raksvängande "Catch´er" eller den stämningsmättade "Archipelago Away"!

Det är ett vidsträckt spann som visar på det ytterst flexibla samspelet i Tomas Janzons kvartett, en kvartett han självklart dominerar utan att dominera. Även det en balansakt som kräver sin mästare.

Tillsammans påminner de dig om att jazz fortfarande verkligen kan vara cool och underhållande.


Johan Scherwin
(reprinted without permission).

---
Jönköpings - Posten - 2 juni, 2000.

Gitarristen Tomas Janzon stack till Kalifornien, och blev kvar. Tillsammans med riktigt tunga namn har han gjort sin första cd.

Det är mest trio som gäller. Trumslagaren Sherman Ferguson har tidigare jobbat med Kenny Burrell, Eddie harris och Pharao Sanders. På bas finner vi Nedra Wheeler som också tillhör eliten.

Det är en ren och avspänd stil vi bjuds på den här skivan med mycket luftiga gitarrackord. Tomas står för samtliga kompositioner som ibland kan ha lite intrikata rytmer men hela tiden står med bägge fötterna på jorden.

-Bo Levander
(reprinted without permission).

---
From www.allaboutjazz.com

February 2000

Originally from Sweden, mainstream jazz guitarist Tomas Janzon has settled in Los Angeles where he performs with the trio heard on his session. Highly recommended, the album and Janzon?s bio information may be found at his web site: http://www.tomasjanzon.com.

Janzon has written tunes for this project that allow the trio to run cool and seamless. Like "The Pink Panther," Janzon?s "The Blue Frog" leaps forth with an attitude, as both guitar and tenor saxophone stretch out beyond the theme. The influence of contemporary straight-ahead guitarist Bill Frisell can be heard elsewhere, especially on the pensive "Archipelago Away," whose loose appearance is packed tight with ideas. The support Janzon gets from his band mates makes quite a difference, particularly from drummers Sherman Ferguson and Billy Higgins. Whether trading fours with Higgins on "Beautiful Love" or turning Ferguson loose on "Fee-Fi-Fo-Fum," the leader creates an atmosphere where everyone comes together and turns out an excellent session.

Track Listing: Space Mail; 27 Years; The Blue Frog; Beautiful Love; Six on Five; Catch?er; Archipelago Away; Fee-Fi-Fo-Fum; No Moe.

Personnel: Tomas Janzon- guitar; Nedra Wheeler- bass; Sherman Ferguson- drums; Louis Taylor- tenor saxophone on "The Blue Frog," "Catch?er" and "No More;" Billy Higgins- drums on "Beautiful Love."

(reprinted without permission).

---
Svenskt från L.A.

OJ Orkester Journalen nr 5, 2000 z, nr 5 April 2000. (sid. 37//)

Tomas Janzon
X-Changes
bildtext: Janzon - en melodiker

Gitarristen Tomas Janzon har i Sverige samarbetat med bland andra Berit Andersson, Bronislaw Suchanek och Anita Strandell. Han har även gjort musik för film och TV. Sedan nio år är han bosatt i Los Angeles där han har startat skivutgivning: här är den första cd:n med hans egen samspelta grupp. Trumslagaren Billy Higgins gästar i Beautiful Love. Janzon spelar melodin med fylliga och originella ackord, rytmen blir allt intensivare i hans solo.

Albumet är helt centrerat kring Janzon. Han dominerar melodipresentationerna och tar hand om mesta solistutrymmet. Inspirationskällor tycks ha varit Wes Montgomery och dennes samtida. Några spår av gitarrspelets klangmässiga utveckling under senare årtionden märks inte. I alla lägen ser han till att musiken svänger maximalt. Tenoristen Louis Taylor hörs endast i tre nummer och då mycket diskret i ensemblen. Basisten Nedra Wheeler kompar stadigt och effektivt, och är även hörvärd solist. Kompet är följsamt och understödjande; alla initiativ tycks komma från Janzon. Alla nummer utom tre är skrivna av honom, omväxlande och hörvärda. De två sista melodierna, av Wayne Shorter och Sonny Rollins, passar honom bra. Allt som allt är detta förträfflig gitarrmusik med rötter i jazzens femtiotal.
Tomas Janzon kan nås per e-mail info@tomasjanzon.com

Sven Boija
(reprinted without permission).

---
From LA Jazz Scene, LA's Only Jazz Paper

February 2000

Guitarist Tomas Janzon reminds us that Jazz is still cool and always enjoyable. Beside him on this recommended session are bassist Nedra Wheeler and drummer Sherman Ferguson. Drummer Billy Higgins sits in for Victor Young's "Beautiful Love," while tenor saxophonist Lewis Taylor joins the trio on three others. Born in Stockholm, Sweden and trained at the city's preeminent Royal School of Music, Janzon later landed in LA to study at both the Guitar Institute and USC. His master's degree in classical guitar may help explain the virtuosic technique, but only a natural desire could possibly explain the cool swing he brings to the microphone.

Fresh ideas such as Janzon's "Six on Five" give the session variety and added energy as Janzon's output offers faint reflections of such eclectic sources as Wes Montgomery, Joe Pass and Carlos Santana. Wayne Shorter's "Fee-Fi-Fo-Fum" provides a natural scene wherein drummer Ferguson lays hands on drums for the kind of treat LA audiences have grown to expect. Sounds emanate from handclaps as well as facial claps that alter the tones; such is the support Ferguson offers. Janzon and Lewis Taylor weave a New Orleans shuffle into "Catch'er" for the album's high point as Ferguson and Nedra Wheeler create a colorful backdrop. The session smokes while keeping things nice and cool.

by Jim Santella
(reprinted without permission).

---
Los Angeles New Times, December 1999

Spiritual Jazz

Drummer Sherman Ferguson is one of the most versatile and well-rounded percussionists gigging in L.A., with vast experience behind him and the ability to bring something creative to every situation he plays in.

Recently, Ferguson's wife heard him with the Swedish guitarist Tomas Janzon and remarked: You play different with him than you do with other people." Janzon, an accomplished player with a lot of academic study under his belt, always looks for spiritual communication between musicians when he plays. Obviously, he has been most gratified by the recent musical imagination he found working with Ferguson and the groove-delicious bass techniques of Nedra Wheeler.

These three greats will share the bandstand for a brunch gig (noon to 3 p.m.) at Catalina's on Sunday. Janzon's engaging originals and inspired arrangements of outside material (Victor Young's "Beautiful Love" and Wayne Shorter's "Fee-Fi-Fo-Fum" among them) can be heard to excellent advantage on his latest CD, X-Changes.

by Kirk Silsbee
(reprinted without permission).