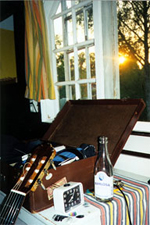 BIOGRAPHY


Tomas Janzon was born in Stockholm, Sweden. His musical quest started at the age of 7 playing the recorder. At 8 he began studying the cello and by 12 was performing with the chamber orchestra Collegium Musicum. His next pursuit and focus was the guitar.

After studying at Musikhogskolan, The Royal School of Music in Stockholm he embarked on his professional career: touring, performing and recording in Sweden and northern Europe. Tomas also composed and recorded music for TV and films: "Vargavår" for national TV, the documentary "Kvinnor pa kontor", art-film "The King of Siam".

Tomas arrived in Los Angeles to study with Joe Diorio at Musicians Institute/GIT, where he was awarded The Outstanding Player of the Year, and taught as an adjunct faculty member from 1995 to 2008. In 2000 he completed a Masters Degree with honors in Classical Guitar at USC Thornton School of Music, studying guitar with Scott Tennant and James Smith, composition with Vince Mendoza and teaching at the Jazz Studies and Studio Guitar Departments. His composition Variations I to IV for marimba, percussion, guitar and double bass was premiered at USC Thornton School of Music 2000.

2001 Tomas spent in Canada teaching as Artist-in-Resident at Selkirk College.

2002 to the present, with Tomas now residing in New York from 2010, has been a continuation of touring and teaching throughout the US, Argentina, Brazil, Germany, Austria and Scandinavia. These years have also seen Tomas' articles published in Guitar Player, Down Beat, Chamber Music, LA Jazz Scene, Orkesterjournalen, Jazz Stage and Fotnoten.

X-Changes, his initial recording, was released in 2000 on his Changes Music label with Billy Higgins, Sherman Ferguson, Nedra Wheeler and Louis van Taylor, and received positive reviews and international airplay.

Live in Stockholm, a 2002 live national radio (SR P2) broadcast concert from jazz club Fasching in Stockholm with Bobo Stenson, Petur Östlund and Christian Spering was reviewed by All About Jazz and Orkesterjournalen.

Coast to Coast to Coast: a composing/recording project from 3 cities: New York - Stockholm - Los Angeles was released in 2007, featuring Ben Dixon, Ken Filiano, Birger Thorelli, Lars Ekman, Ali Djeridi, Jeff Littleton, Tony Austin and William Henderson.

Experiences (CM 113, Naxos Sweden) featuring Art Hillery, Jeff Littleton and Albert "Tootie" Heath was released in New York City on September 6, 2010. The album including a photo collage reflecting the relocation drive from LA to New York.

130th & Lenox (CM 114): the 2019 recording project, focusing on Tomas location in New York actually started in Los Angeles in 2017 with Nedra Wheeler and Donald Dean and was finalized at Acoustic Recording in New York with Steve Nelson, Hilliard Greene and Chuck McPherson.


Updated 2019

©Changes Music