Sessions

Diminished Blues
By Tomas Janzon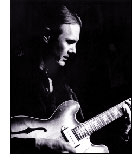 Here are two concepts that will add surprise and color to your improvised lines. Ex. 1 shows a scale composed of alternating whole- and half-steps. In this instance, we start on D, but you can apply the whole-half (W-H) formula to any starting note. Notice the Ddim7 arpeggio (D, F, A
, B) within the scale? This diminished arpeggio gives the scale a bluesy sound.
Whole-half moods. You can play the whole-half (or diminished) scale over a minor chord with the same root, as in Ex. 2. With their rolling sound, the triplets at the ends of bars 1 and 2 push you from one measure into the next. This momentum is enhanced when you anticipate the downbeat by a triplet eighth-note, as shown here.
Rhythmic jabs. The second concept is to create rhythmic accents by slipping chords into your single-note lines. I find that two- and three-note chords work best for this kind of harmonic punctuation. Ex. 3 enhances the diminished lines with three-note voicings in bars 2 and 3 and a four-note finale. Again, notice the triplet eighth-note anticipations. Pay attention to the chord shape on the fourth, third, and second strings. It moves up and down the fretboard in minor thirds, yet stays within the D diminished scale. Experiment with different fingerings than those shown here, and -- above all -- make the line swing.
FYI: Squeezing the Minor 7
By lowering specific tones within a minor-7th chord, you can create piquant new structures. Lower the 5 by a half-step, and you get a min7
5 (see chart). In certain harmonic settings, this is called a half-diminished-7th chord. When you squeeze a minor-7th chord by lowering the 5 and the
7 by a half-step, you get a diminished-7th chord. -- Andy Ellis
Selected Chord Formulas

TYPE
FORMULA
minor 7
1
3
5
7
minor 75
1
3
5
7
dim7
1
3
5
7 (6)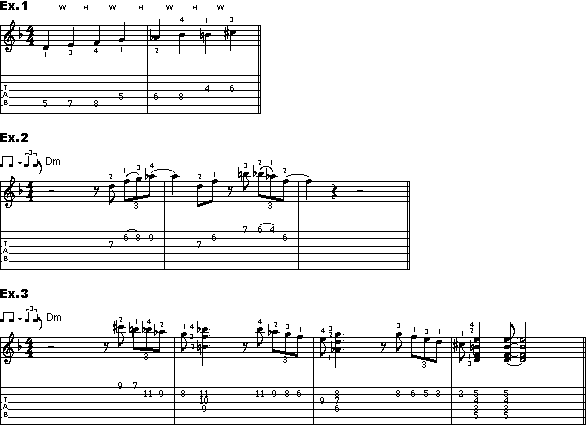 Listen to Example 3

JANZON_EX3.WAV (for Windows)
JANZON_EX3.AIF (for Macintosh)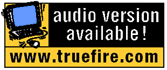 TOMAS JANZON performs, records, and teaches in Los Angeles. Visit tomasjanzon.com for more info on his gigs or recent CD, X-Changes.
Photo: Bob Berry